MED2110 Introduction to Medical Sciences and Patient Care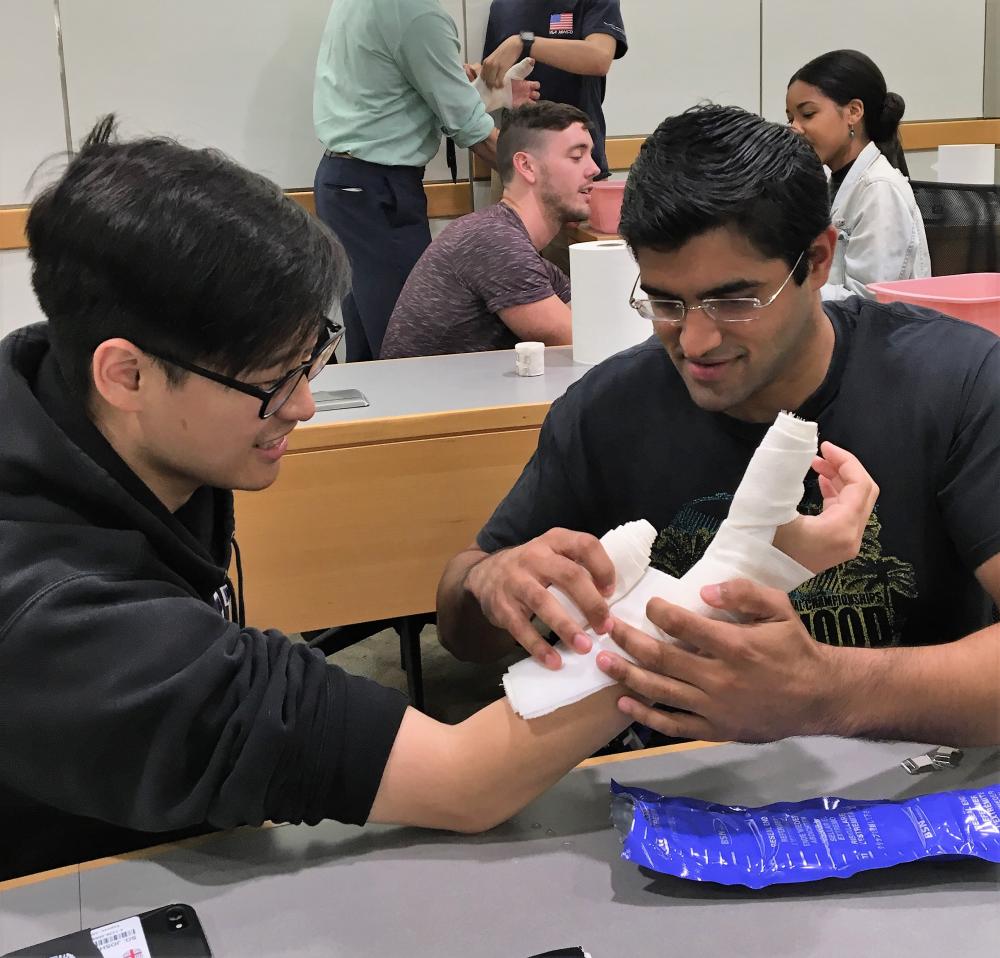 This 2-week intensive July course introduces students to the wide variety of topics that will be explored in the Master's of Medical Sciences program, with a focus on the patient care aspects.  The course will combine seminar classroom instruction with field work/immersion at a community health center site, which will be their longitudinal site throughout the year. Topics covered will include: the biopsychosocial model of healthcare; the intersection between science, social science and humanities in healthcare; introduction to community health centers; professionalism in healthcare; basic healthcare communication skills; quality improvement skills; and learning styles and strategies for mastery of basic science knowledge.  Students' knowledge and skills acquisition will be assessed using multiple methods including: seminar participation, reflective essays/field notes, attendance at required field work sites, & assessment from community mentors.                                        
MED2140 Human Histology    
Human Histology is a well established first year medical school course. It provides an in-depth treatment of the "stuff we are made of" and the logic of its organization. The basic architecture of the body is of primary significance in gaining an understanding of what we as human animals are made of, and how we work. Fundamental to such an understanding is the basic unit of life, the cell. During early development, cells in the aggregate undergo specialization as tissues, which are the building blocks of the body. This course focuses first on the biology of the four basic tissues (epithelium, connective tissue, muscle and nerve) and second, how they contribute to the functional anatomy of all organs and systems. We will emphasize characteristic developmental, structure-function and regulatory relationships within normal cells and tissues, which are the foundation for the understanding of pathologic alteration.
MED2160 Human Anatomy
This course is based on a well-established Alpert Medical School first year course. It has been adapted for students in the Master of Medical Sciences Program (ScM) within Alpert Medical School's Gateways Program. Material covered in this course is closely linked to material in 3 other required courses in the Fall Semester of the Masters Program, thus providing students with an integrated understanding of the foundational principles relative to the study of human health and disease. Exams are integrated exams covering material in all 4 courses. The course lectures are the same as the corresponding first year medical student course. The laboratory sessions are "hands-on" and highly interactive and are uniquely designed to meet the needs of Masters students.  Because of the unique nature of the relationship between this course, the 3 other courses and the Alpert Medical School schedule, Human Anatomy 1 (MED 2160) is only open to students in the Gateways Program.